Here you find important and useful information of travel and accommodation for your preparation of visit to Media Expo.

Accommodation
If you are looking for hotel accommodation, there is a wide selection of hotels nearby the fairground. While we do not provide accommodation services you can check the below reference list to begin your search. 
Please note that this is simply a suggestive list and we are not responsible for the services provided by the hotels listed therein. 
Visitors are to make their own travel and accommodation arrangements. 
We have no tie-ups with any hotels/lodging service provider. Please be wary of any agents claiming to do so.
Accomodation inside venue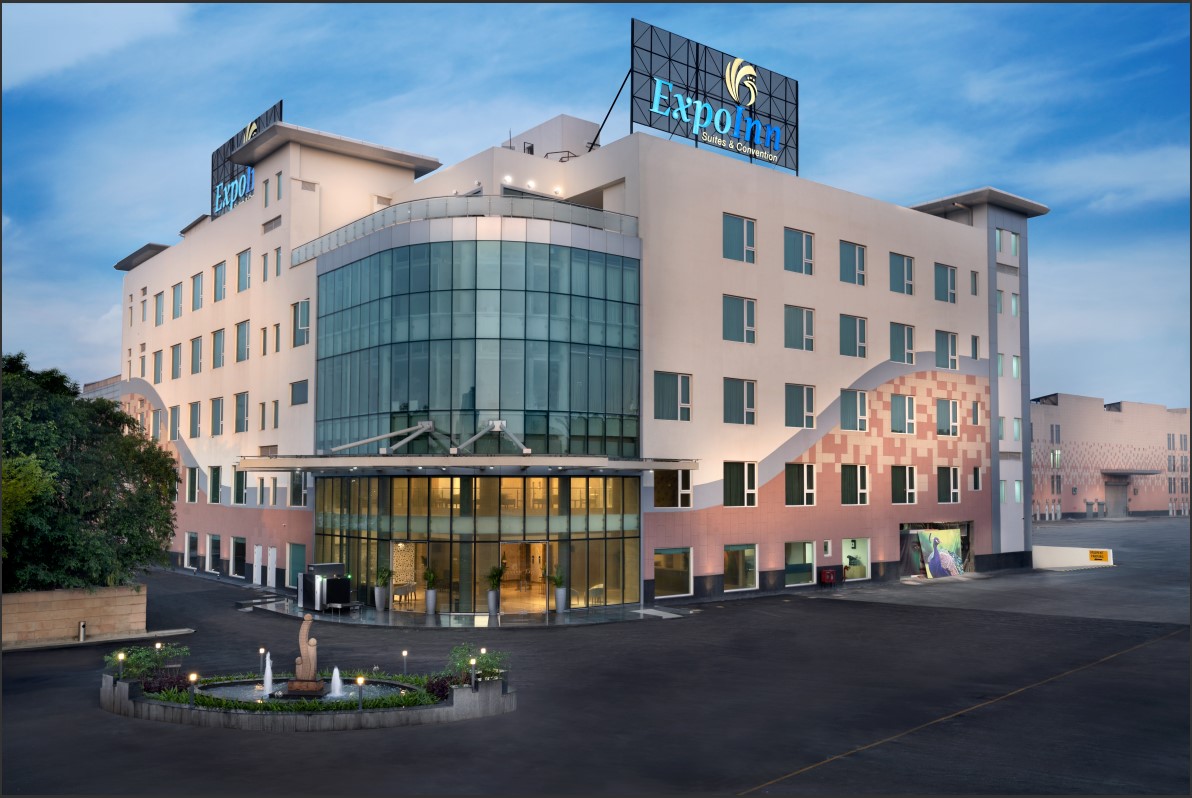 Expo Inn Suites and Convention
Ms. Nivedita Trehan, Associate Director of Sales  
ados@expoinn.com/ 09289657046
Reservations :- reservations@expoinn.com/ 0124-6573299

Special rates for accommodation during Media Expo 
Single Occupancy: INR 5,000/-
Double Occupancy: INR 5,500/-
*Taxes extra | Rates are inclusive of buffet breakfast only
Important Note: All accommodation and payment terms and conditions will be as per the hotel management only. Visitors are requested to directly connect with the hotel. Messe Frankfurt is not responsible for any of the transactions and/or arrangements done.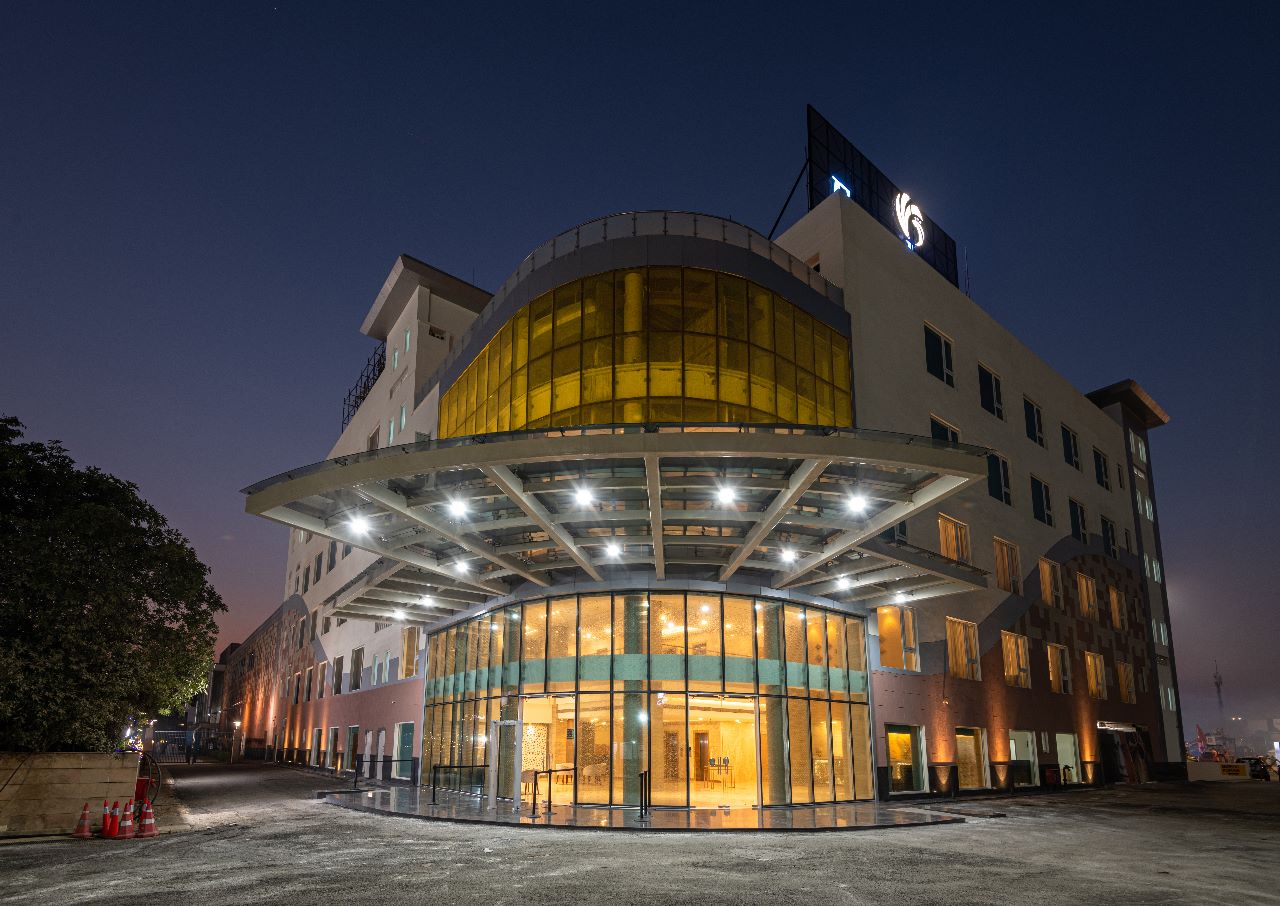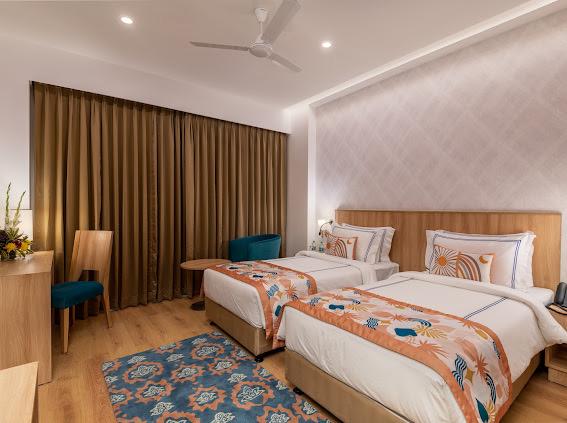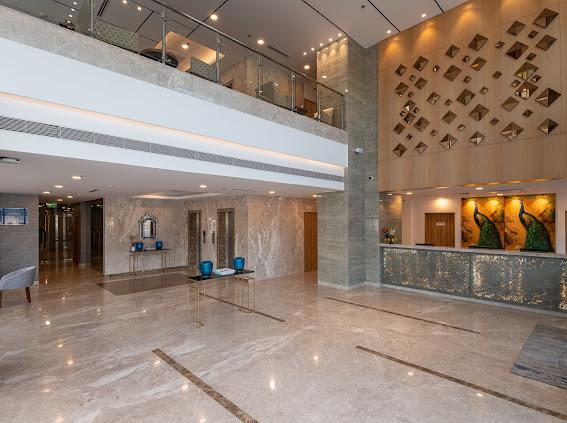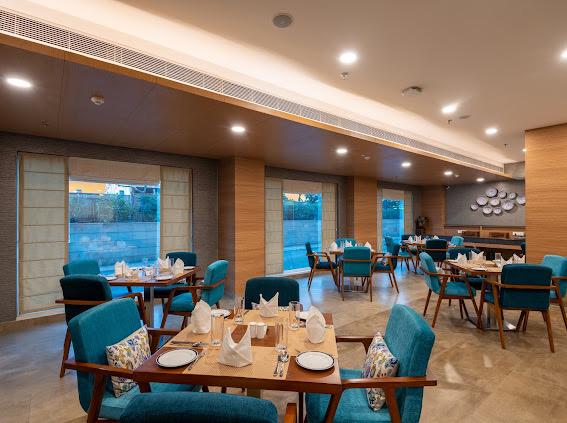 List of hotels near India Expo Centre & Mart
GREATER NOIDA
S.No.
Name of Hotel
Type
Location
Distance from IEML (in Kms)
Address
1
Jaypee Greens Golf & Spa Resort
5 Star Resort
Greater Noida
5
Old Kasna Rd., Block B, Surajpur, Greater Noida, Uttar Pradesh - 201306
2
Jaypee Greens Delcourt
5 Star
Greater Noida
 5 
Surajpur Kasna Road, Greater Noida
3
Radisson Blu
5 Star 
Greater Noida
3
C-8, Site IV, 2nd Cross Avenue Road, Kasna

4
Crowne Plaza 
5 Star
Surajpur Greater Noida
 5
Surajpur Chowk, Institutional Green-I,Greater Noida, UP - 201306
5
The Stellar Gymkhana
5 Star Membership Club
Greater Noida
0.1
R-1, Knowledge Park-II, Greater Noida.
6
Savoy Suites
4 Star
Ansal Plaza Pari Chowk
0.5
Ansal Plaza, Destination point, 1- C, instititional Area,Greater Noida, UP - 201301
7
The Hideaway, Greater Noida
4 Star
Greater Noida
2.3
C-40, Knowledge Park
Greater Noida, UP-201308
8
Twin Towers
4 Star
Greater Noida
1
CF 132G, Ansal Golk Link-1, Greater Noida
9
Stardom Hotel & Resort
4 Star
Greater Noida
13
Plot No.20, Institution  Greens-1
Suthiyana, Greater Noida - 201306
10
Qube By Habitech​
Budget Hotel
Greater Noida
2
plot no. 9, Knowledge park 3, Near sharda hospital, Greater Noida - 201306
11
Hotel Caspia
Budget Hotel
Greater Noida
3
Wegman's Business Park Plot No. 3, Knowledge Park III, Greater Noida, Uttar Pradesh 201308
12
Grand Heritage Resort
Budget Hotel
Greater Noida
4.5
R-4, Sector 20, Block B, Nawada, Greater Noida, Uttar Pradesh - 201310
13
Le Grand Regency
Budget Hotel
Greater Noida
3
R - 3, Builder Areas.
Greater Noida - 201303
N0IDA
14
Sandal Suites operated by Lemon Tree Hotels
4 Star
Noida 
10
Assotech Business Cresterra, Plot No.22, Sector 135, Noida Expressway

15
Radisson Blu Hotel- Noida
5 Star 
Sec. 18, Noida
27.2
L2 Beside Centrestage Mall, Sector 18, Noida, Uttar Pradesh 201301
16
Park Ascent
4 Star
Sector 62, Noida
35
Park Ascent Hotel, Plot no. 126, Noida-Khoda Road, Opp. IIM Lucknow-Noida Campus, Sector-62, Noida - 201309
17
Radisson - Noida (Park plaza)
5 star
Sector 55 Noida
 
Plot No. 02, C-block, Sector-55
Noida,U.P., India
18
Savoy Suites
4 Star
Sec. 16, Noida
29.7
A-79A, Metro Station Rd, Nr Mc Donalds, Naya Bans Village, Sector 16, Noida, Uttar Pradesh 201301
19
Latitude - Mosaic Hotels
4 Star
Sec. 18, Noida
27.2
Mosaic Hotels, C-1, Sector 18 C Block, Pocket C, Sector 18, Noida, Uttar Pradesh 201301
20
Park Plaza East Delhi
5 Star
East Delhi
39
Plot No-32, Shahdara CBD, New Delhi-110095
21
Fortune Inn Grazia
4 Star
Sec. 27, Noida
30
Plot 1A, Block I, , Sector–27, Noida - 201301, Uttar Pradesh
22
Hyphen Business Hotels
3 Star
Sec. 62, Noida
32.2
C 45, Sector-62 Noida Supertech Building, Industrial Area, Sector 62, Noida, Uttar Pradesh 201301
23
Ginger Hotel
3 Star
Noida Sector - 63
33
46/1 A, Block-H, Sector-63,Noida
24
Corporate Suites
3 Star 
Sec. 62, Noida
32.2
C-30/4, Sector -62, Noida
25
Hotel Golf View
Budget Hotel
Sec. 37, Noida
27
14/1, Opp. Botanical Garden Metro Station,
Sector-37, Noida-201303 (UP)
NEW DELHI
26
The Leela Ambience Convention Hotel Delhi
5 Star
Shahdara, New Delhi
39.7
 1, Yamuna Sports Complex, Near, CBD, Maharaja Surajmal Marg, Vishwas Nagar Extension, Vishwas Nagar, Shahdara, Delhi, 110032
27
Crowne Plaza Mayur Vihar
5 Star
Mayur Vihar 1, New Delhi
28.9
13-B Mayur Vihar, District Centre, New Delhi - 110091, India
28
Crowne Plaza New Delhi Okhla
5 Star
Okhla
29.9
Plot No. 1, Community Centre, Phase - 1, Okhla, New Delhi - 110020 India
29
Holiday inn
5 Star
Mayur Vihar 1, New Delhi
28.9
13A, Mayur Place, District Centre, Mayur Vihar, New Delhi, Delhi 110091
30
The Surya Hotel
5 Star
New Friends Colony
34.8
New Friends Colony
The Suryaa New Delhi- 110025 
31
Fraser Suites New Delhi
5 Star Service Apartment
Mayur Vihar 1, New Delhi
29.5
District Centre Plot No 4A, Sadbhawana Marg, Phase-1, Mayur Vihar, New Delhi, Delhi 110091
GHAZIABAD
32
Country Inn & Suites
4 Star
Sahibabad, Ghaziabad
39.2
64/6, Sahibabad Industrial Area Site 4, Sahibabad, Ghaziabad, Uttar Pradesh 201010
33
Mahagun Sarovar Portico Suites
4 Star
Ghaziabad
41.4
Mahagun Metro Mall, VC 3, Sector 3, Ghaziabad, Uttar Pradesh 201012
 
Visa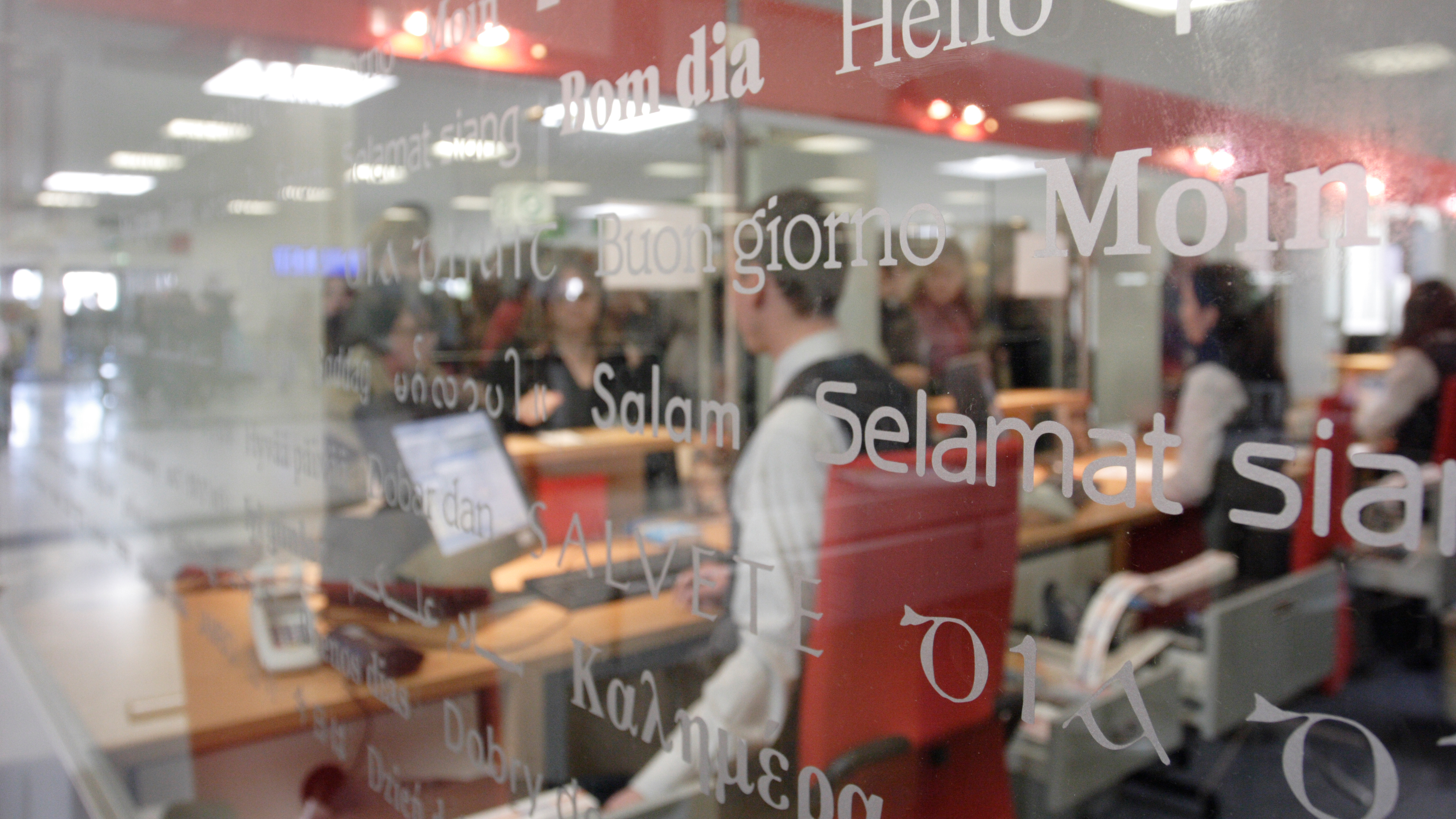 Here you can find important information for your journey to New Delhi and about your visa.
Important information for travel to India